Cock your hat; angles are attitude – Frank Sinatra
Donning a proper hat is not everybody's ball of game; it takes audacity and accurate fashion sense to accomplish it. Hats have now been transformed into wardrobe essential for many women. Women's hats are often fashionably oversized, delicate or embellished and there is always dearth of space in their wardrobes.

Apart from being an accessory staple, hats shades your face and eyes from the bright sun and it helps to protect your hair. It even helps to cover facial flaws, can pull up an ordinary and turn it into classy or gorgeous one.
A cute hat is great for weaving an outfit together and is often the first thing women turn to in case of an emergency.
This article focuses on tips to use a hat to configure your hair and even toss it for a better style: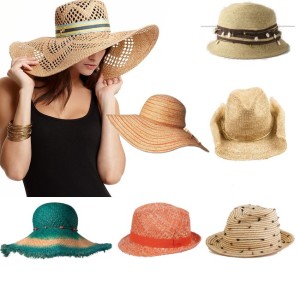 Type of hats to invest in:
Secure your investments infashion hats which are simple and timeless in versatile styles and colors such as fedora, panama, floppy straw, beanie, beret or newsboy. Match these with multiple outfits. You should own at least two – straw hat in men's fedora style for summers and a beanie/beret/newsboy for winters would be the best option.
Best Hats for your face shapes: Thanks to some inadequate fashion sense many women commit blunder by wearing a hat that doesn't compliment their face shape accurately. It almost leads to embarrassment, as either the hat is too big, making their face look less significant; or too undersized, making their facial features appear broader.
Following are the hat style recommendations for different face shapes:

For oval shape: As oval shape is ideal one, you'll sport a variety of fashion hats. Your best styles have large brims, not wider than your shoulders. Just tilt it from sides and keep it just right on your forehead.

For round shape: You should opt for irregular brim and a prominent crown to elongate your face to make it appear more like an oval.

For long shape: Go for low crowned full or upturned brim hat as you must focus to shorten your face shape and add some width.

For square shape: The focus should be to soften your jaw line to elongate and slim your face shape. Irregular brim and a prominent crown with curvy and less edges will make your face appear longer.

For diamond shaped face: As your focus is to widen your forehead, choose hats with side bands to help widen your forehead
and avoid hats with medium brims which make your forehead or chin narrower.
Hats for your hairstyle, outfit and skin tone

To make the hat more stylish, take your hair to one side and create a loose braid. You can also opt for a pony tail or simply let your hairs loose down on your shoulders. To get a softer look, you can also opt for simple hairstyle in such a way that your hairs are not visible under the hat.
While yellow and dark skin toned women can pick any color hat as each color complements them, red or pink color hats flatters white skins.
Maintain right coordination between your outfit and your hat. For a single color dress, opt for a printed hat. A tweed hat for a leather jacket and a velvet hat for winters will add to the variety.
Hope this article will sincerely assist you in wiping out all your concerns regarding hats and help you in picking the right hat to make you stand out.