Among many renowned fashion designers of Pakistan Maria B is the most eminent one. Like her own personality a grace and beauty is found among all of her dresses.  Maria B started her bridal dresses designing 14 years ago in Lahore with the key purpose of providing quality dresses of women. And from that day she never stopped. Now she has launched different successful brands like Mkids, Pashmina, Maria B. Brides, Mbroidered Fabrics and many more. But the fame she got from her bridal collection is above all. Recently Maria B. Latest Bridal Collection has been launched and in this post you can see her beautiful wedding dresses.
Wedding dresses by Maria B are fabled because of quality fabric, unique designs and eye catching color contrasts. While designing she considers the latest trend and requirement of common brides and this thing makes her dresses more popular. Moreover if you are looking forward for a best wedding dress on your special day of life then go ahead to any Maria B. outlet. There you can find a wide range of dresses. She has specially designed dresses for all functions of Pakistani wedding. Maria B. mehndi dresses and mayon dresses are worth watching. You can also order a dress of your own choice and can also make amendments in a dress. Another thing which I find best in Bridal dress by Maria B. is that they are not very much expensive and are affordable. So now let's have a look at her latest collection of dresses for brides.
Maria B. Bridal Dresses Collection 2014:
Color contrast is the thing in which every one is not expert but it is done beautifully in this Maria B. wedding outfit. Combination of fawn, pure red and tinge of green will make your appearance enchanted on your special day.

Wearing your own designed dress on your marriage is quite exciting and same is done by Maria B. This is one of most beautiful Maria B. Walima dresses. Blue with grey dress and patches of maroon and black on it results in an alluring dress.

This is best one for first day of wedding as red is mostly desired by most of brides. Heavily embroidered dual colored lehnga and short kurti with some patches of light blue seems very prepossessing. You may keep length of your lehnga and choli for wedding according to your choice.

Looking for soft color Pakistani dress for reception?? Try this out, soft pink and grey will really give a younger look to you. This tail style bridal dress by Maria B. is according to traditions and latest trends of Pakistan.

On first day mostly deep colors are desired but using contrast colors will not only make dress very special but also prevent you from looking monochrome. Fresh blue and orange in this dress are also doing the same thing.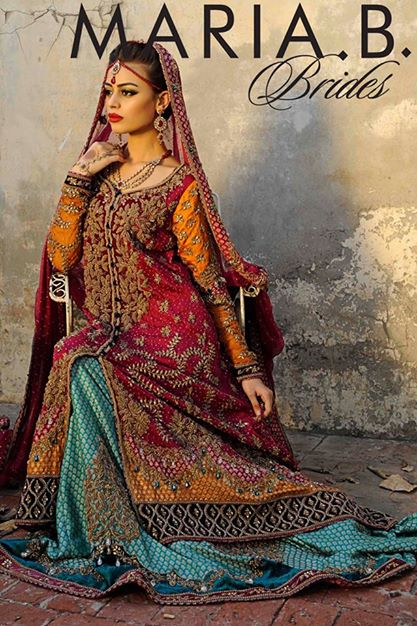 Frocks are never out of fashion and this one is my personally favorite dress. I think its one of best walima dresses 2014. Baby pink color with its delicate sensation and silver embroidery on bodice and bottom of this dress is breath taking.

This long length frock will look great with both lehnga and sharara for weddings. Fresh red as base color and orange, pink and green color on arms and bottom of frock as patches make it look more stunning.

Another arresting and charming dress for walima by Maria B. Grey color is in fashion these days and can be seen in most of her dresses for reception. Heavy front kameez can also be wear as bridal Nikah Dress.