You will hardly find a woman who does not want to look trendier with latest fashions. When it comes to their dressing they become more conscious as it is the great way to depict your inner self. While talking about latest trends of dressing we cannot omit Pakistani frocks designs which have been very popular for the last two years in all types of wear. They are still in fashion and many famous designers of Pakistan have produced wonderful frock dresses of bridals, party wear and casual wear. So today we have gathered some collection of Beautiful Pakistani Designers Frock Designs 2014.
Designers Pakistani Frock Designs 2014
Right now there are so many dress designers working in fashion industry of Pakistan. In fact this industry is now among the top developing industries of the country and these designers are now spreading their skill to youngsters by teaching them. Today we are showing you frock designs for Pakistani girls. So let's have a look at them.
Frock Designs by Deepak Perwani:
Deepak Perwani one of the old yet famous names in designing is very popular for his unique and quality dresses. He is now known worldwide because of his world record of making largest Kurta of the world. His dresses are fully representative of Pakistani culture and traditions.
This is an alluring Pakistani frock design by Deepak Perwani in which he used light colors to give softer look. Self-printed frock with twin dyed contrasting colors and embroidered bodice results in a perfect dress for bridal mehndi as well as party wear frock. Heavily embroidered orange dupatta adds more beauty to the dress.
Very formal heavy dress for formal functions or for bridal wear looks great with such fabric. Self-printed tilla design fabric is used with embroidery on neckline and daaman of frock. Tail style frock with patches on trouser is a perfect choice for mayoon dress or mehndi function.
Thread embroidered frock with plain bodice without any work will appear great as a party wear dress by Deepak Perwani. Deep color with multi shaded work and unique stitching make the dress more adorable. The stitching is such that it appears front corner with golden patches on border and neckline.
Frock Designs by Fahad Hussayn:
Fahad Hussayn is another famous and emerging designer of our country. He started his work in 2007 and soon become one of the most eminent fashioner. He is famed because of Fahad Hussayn bridal couture which is always a stunning combination of eastern and western cultures.
Bridal dresses by Fahad Hussayn are always most wanted by young girls on their special day. This is first rate dress with pistachio and fading peach color. There is long length frock having heavy bead and zarri work on bottom line and front whereas it is combined with bridal lehnga with patch of golden color. No doubt it is terrific dress for you reception function.
Angrakha frocks are very popular this year and this is the one with very appealing sky blue color. There is embroidery on bodice, front and back and another attractive thing in it is the lower patch in golden and all these things makes a cool party wear dress.
Peach is the color that easily suits to every one and here is a stylish dress in same color. This is an open frock with double shirt of light green color. Shirt is brochia print and frock is of pure chiffon. There is glamorous flower printed on upper back while the front is open with silk patch in brown color.
Frock Designs by HSY:
Hassan Sheheryar Yasin (HSY) started his career as fashion designer in 2000 and since then he never looked back. He has professionally studied couture and now known as "New King of Couture". His dresses are ideal combination of Eastern, Middle Eastern and Western impact. He won many famous awards in his field because of his quality and unique work.
If you are looking for casual frock designs by HSY then here comes the one for you. Front and back of frock is of different colored and are self-printed. There is light work on bodice and green and white color makes the dress ideal for Independence Day of Pakistan. Knee length frock with palazzo look stylish and chic.
Formal wear elegant dress could not be more beautiful than this. The soft skin color dress with combination of white will appear great as it help to accentuate your skin tone. Tail style long frock will give a western touch to the dress and it wearer.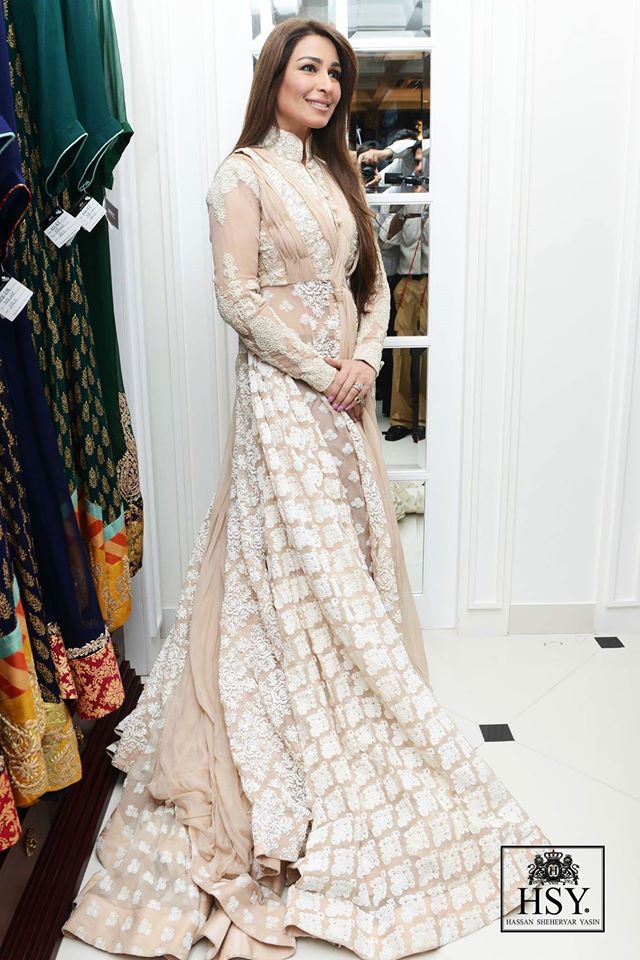 Ankle length kalidar frock of white color give essence of purity to you. When worn on your reception will make you look sophisticated and special. Jacket like sleeves and silver work on front and neckline appears to be quite charming. Tilla lace and silver ribbon on bottom line make it more appealing and monochrome.